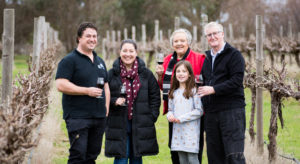 Growing up in the Limestone Coast Luke Trotter was always passionate about Coonawarra. So when an opportunity presented itself, Luke, along with his wife Bec and parents Gary and Ann, happily took over The Blok Coonawarra.
The Blok is one of the smallest wineries in Coonawarra but what they lack in size they make up for in passion. Producing outstanding wines that reflect that passion as well as the terroir of Coonawarra.
Family owned and run in every sense, it is not unusual to see three generations of the Trotter family working together in the cellar door and vineyard.
As well as traditional red varietals such as Cabernet Sauvignon and Shiraz The Blok Coonawarra also produce Riesling and NV Sparkling Pinot Chardonnay. In a region dominated by red varietals, The Blok Coonawarra is producing some fine examples of cool climate whites, especially our Riesling.