Cabernet Celebrations is a month long celebration of Coonawarra's most well known and most celebrated variety. Cabernet Sauvignon. The King of Grapes.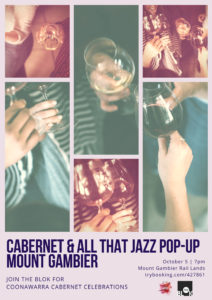 Cabernet & All That Jazz
Mount Gambier Pop-up
Grab your friends and spend the night celebrating Coonawarra Cabernet Celebrations.
Great food, delicious wines and fantastic music, we are bringing the celebration to Mount Gambier.
Grab a glass, a bite to eat and dance the night away. Wines available by the glass from The Blok Coonawarra and food available by Soul Projects.
Cost is $20, this includes entry, band and glass. Tickets are available via link below or at the door on the night if not sold out before.
Cabernet Flight

Take a flight with The Blok Coonawarra Cabernet Sauvignon. Your flight includes a past vintage, current vintages and a barrel sample of our yet to be released 2017 The Pilot Cabernet Sauvignon.
Flight cost is $15 per person, tickets available at The Blok Coonawarra cellar door.
Bookings are not required but are appreciated.
Any travel enquiries can be made by calling 08 8737 2734.